A gallery of work for sale will be online October 2017!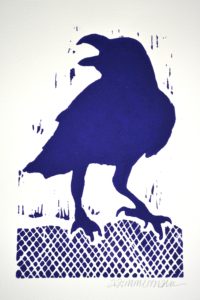 BETHEL — Newtown resident Andrea Zimmermann will have her first one-man art show, World of Nature, at Bethel Public Library, 189 Greenwood Avenue, from June 4 to July 10. Everyone is invited to attend the artist's reception on Sunday, June 4, from 2 to 4 pm.
The show features works depicting the natural world in various media, including pastel, etching, block prints, silkscreen, and photography. Each piece reflects the artist's fascination with and love of nature.
Some of the works are realistic, such as the pastels "Fox" and the "Grand Canyon," and sepia photograph "Two Hours Old" of a sheep and her newborn lamb. Other pieces are stylized such as the block prints "Raven Attitude" and an elephant series, and a silkscreen print, "Shadow Play."
"I choose a subject that strikes me enough to spend time researching its nature, intensity, colors, texture, and—if it's an animal—its habits," she said. "In some pieces I also wanted to explore light and shadow, or reduce something to its bare elements and still convey what is powerful or humorous about it."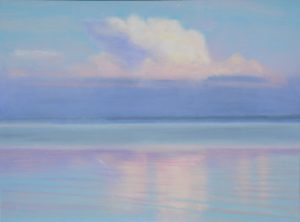 The subject also informs the artist as to what medium to use. For instance, "Sunset over Grand Traverse Bay," a painting of a cloud and its reflection in the water, lent itself to pastel, said Andrea.
The block prints are created by carving a design in a block or linoleum plate, then inking it with printmaking ink (Andrea prefers soy-based because it stays wet longer and is an easy clean-up), placing specialty paper on top of the block, and rubbing it vigorously to transfer the design. Andrea uses mulberry and rice papers, as well as traditional etching paper.
"No two prints are exactly alike because of the transfer of the ink and the unique attributes of handmade paper," said the artist.
Andrea, who is also a writer and librarian, has been surrounded by art and creativity since she was a child.
"My mother, Lois Zimmermann, was an artist," said Andrea. "So I grew up thinking creating art was as natural as breathing."
Andrea, who was her mother's favorite model because she "was the youngest and most available of three siblings," learned about artist tools and techniques by watching her mother and trying things out for herself.
"We had a kiln and a pottery kick-wheel, silkscreen frames, every drawing and painting supply you can imagine, as well as books and prints and magazine clippings of artwork," said Andrea. "Colors such as Burnt Umber, Alizarin Crimson, and Cerulean Blue, became part of my vocabulary and I knew what the words meant, although I couldn't spell them at the time!"
Sometimes Andrea tagged along with her mother where both were invited to try new techniques, such as mono-printing from glass, at a friend's studio. During high school she chose ambitious projects to fulfill homework assignments. One was a full bed-sheet batik of Don Quixote she created with a classmate; another was to write an ending to Dicken's unfinished The Mystery of Edwin Drood.
"It seems audacious to me now," laughed Andrea, "but my parents thought these were great ideas and led me to believe I could accomplish anything I was willing to work for."
Andrea's sister, Roberta Jones, was a fine arts major and became a professional photographer. When Roberta was in college, their father built a darkroom in the basement of their home. Roberta taught her younger sister how to develop film, make prints, and start to develop an eye for choosing and framing a subject.
When Andrea went to college, she had the opportunity to explore the spectrum of creative arts and chose to pursue a masters in English with a concentration in creative writing.
"I knew I didn't want to teach – I was too shy," said Andrea. "I just wanted to write short stories, which made my father lament just a little."
Andrea went on to be a reporter at The Newtown Bee, a freelance writer for the Connecticut Weekly section of the New York Times, an interviewer and editor for the decade-long Newtown Oral History Project, and author of three local history books. She continues to take art classes, learning new skills and refining others.
"My ideal day is to write in the morning, take a walk or hike, and then paint in the afternoon," she said. "Painting and writing are solitary endeavors, so I'm very glad to work as a librarian on a vibrant college campus."
Many of Andrea's works of art will be for sale. Additional framed prints, as well as two of the three books written by the author, will be offered for sale during the reception.
For more information about the art show, contact the Bethel Public Library at 203-794-8756. More about Andrea's work can be found on her website, apzimmermann.com and Instagram page andreapzimmermann.com.
(From: The Newtown Bee, May 19, 2017)