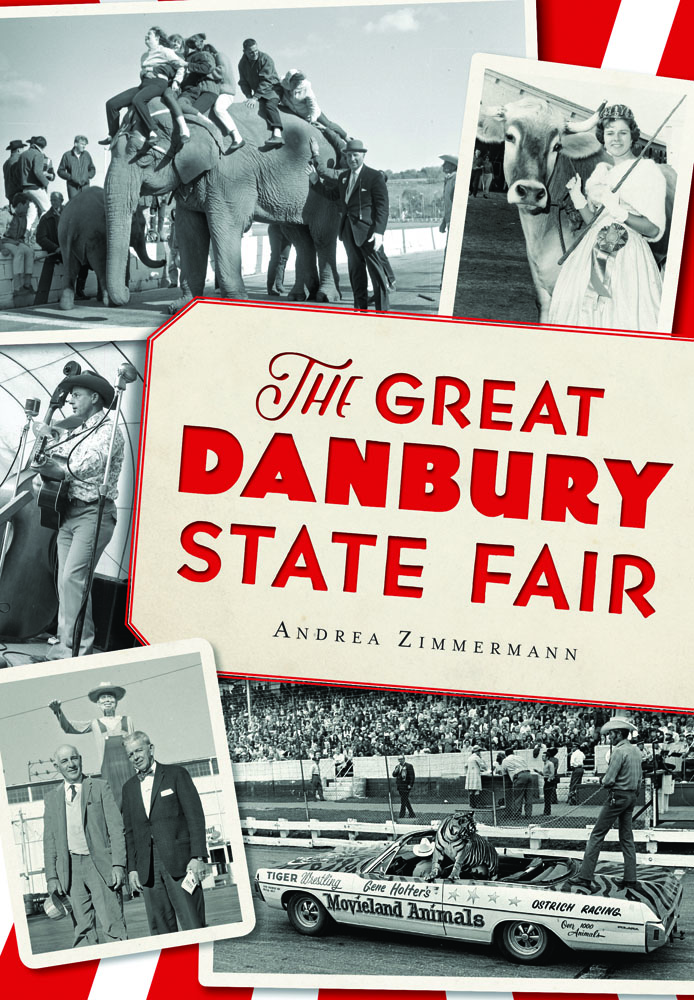 $15 a copy through this site, only!! Happy Fair Season!! — While Inventory Lasts!
The Great Danbury State Fair, the first book-length history of the 112-year-old event, has sold more than 1,000 copies. Author Andrea Zimmermann spins her extensive research and interviews with farmers, concessionaires, management, and fairgoers, into a fun and fascinating story.
The Danbury Fair was first held in 1869 under a borrowed tent. It thrived for more than a century on the same patch of ground, expanding and becoming an entity operated by a family corporation and worth millions. Under the management of oil magnate John W. Leahy, the fair retained its great hometown appeal even as city dwellers flocked to the fairgrounds by the thousands.
The book includes profiles of the wealthy and innovative men who controlled the fair, the massive displays of agriculture, the ox-pull contests, wildly popular stock car racing, girlie and freak shows, entertainment, unique themed villages, and the iconic giant figures on the fairgrounds. The work is illustrated with nearly 90 photographs from the collections of university archives, historical societies, professional photographers, and fairgoers.
Venture back to the autumn days of zany ostrich races and Zembruski's polka music with Andrea Zimmermann as she explores the beloved bygone tradition of the Great Danbury State Fair.
Andrea will be making appearances throughout the region, and is available for interviews. She is also happy to sign and mail you copies of her books. [Click here to shop for books by Andrea.]